Our first post by the Marvelous Mary (MM)!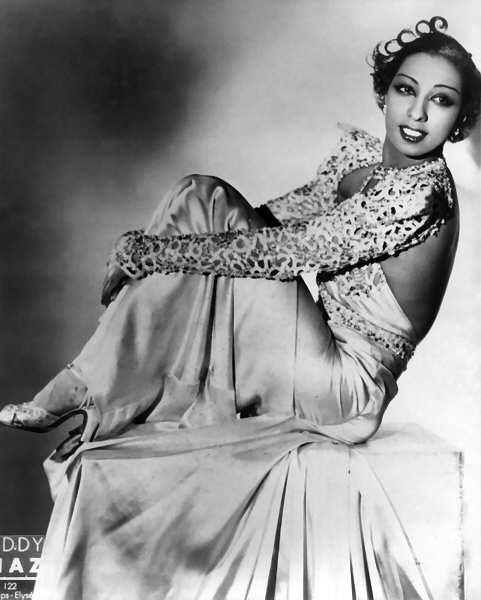 Our Nubian Icon for this month is the illustrious Josephine Baker. Josephine Baker, born Josephine Freda Mcdonald (June 3 1906), was an American-born French dancer, singer and actress. Known for her comical yet sensual appeal which was derived from her inclination for nearly nude costumes; a notable costume featured 16 bananas strung into a skirt whilst performing in La Revue Negre in 1925 in France. Baker's striking persona and exotic beauty generated nicknames such as 'Creole Goddess', Black Venus and Black Pearl. Amongst racial tensions particularly in the United states which prevented her talent from being fully accepted and recognised; despite the obstacles which could have possibly made it impossible for her to reach the height of greatness she eventually acquired; Josephine Baker continually excelled from the beginning of her career in New York city during the Harlem Renaissance, up until zenith of her career, becoming the first African America to star in a major motion picture ( ZouZou 1934) or to become a worldwide entertainer. This at the time was a significant milestone in the history of people of African descent.
Baker was born and raised in St Louis, Missouri. In the early 1900's many African Americans lost civil rights gained during the reconstruction and the New South (1877-1900) as racism reached its high point. Josephine Baker who grew up cleaning houses and babysitting the children of affluent white families often faced racial discrimination which continued into her career. After becoming the most successful American entertainer working in France, she returned to United States in 1935 to star in Ziegfeld Follies, a series of elaborate productions on Broadway In New York City, however, she did not get the reception she expected. Her performance generated poor box office numbers and was referred to in Time Magazine as a 'Negro wench'. Despite scoring her most successful song a few years prior (J'ai deux amours" (1931) and being the muse for many designers, authors and artists among those being Pablo Picasso, Christian Dior and F.Scott Fitzgerald, it appeared as though American audiences resented the notion of a black woman with much sophistication and power, attributes which weren't related to black women already residing in America at that particular time.
Our Nubian Icon is remembered for much more than her contributions to music and film, we also admire her for her political activism and contributions to the war effort during the Second World War.  At the outbreak of World War II in 1939, Baker aided the war effort by performing for troops; More importantly she was also recruited by the French intelligence agency as an honourable correspondent, responsible for gathering information on the location of German troops through mingling with officials at social gatherings. In addition, her support during the 1950s for the civil rights movement revolved around the notion of the practical possibility for integration. This she did through insisting on integrated audiences at her shows and giving talks at universities in Nashville on racial equality. Furthermore the adoption of 12 children all of different ethnicities, which was deemed as the 'rainbow tribe', has been argued to be an experiment to prove the fact that all races can integrate and live harmoniously.
Josephine Baker left an indelible mark in the history of African Americans and specifically African American women. She defied the odds in a hostile climate both in America and France. In her later years she continued to perform, her final performances included a performance in Belgrade in 1973, Carnegie Hall in 1973, the Royal Variety performance at London Palladium in 1974, and finally she starred in a revue at the Bobino in Paris which celebrated her 50 years in show business. Her final performance received great reviews and it is said that she was found surrounded by newspapers with outstanding reviews of her performance – she had slipped in to a coma and sadly it was discovered she had suffered a brain haemorrhage. She died age 68 in 1975. Her funeral was held at L'Église de la Madeleine, a roman catholic church in Paris; and she became the only African-American born woman to receive full French military honours at her funeral.
Her legacy lives on, and although this includes remakes of her iconic costumes, movies, shows and theatre productions in her honour, beneath the surface there is a greater message which Josephine Baker left behind. A message of hope that what seems impossible is achievable with desire, fortitude and a lot of hard work. She was a pioneer in her field for not only African-American women, but all women. In an era when women did not have equal rights she managed to become the highest paid female in Vaudeville and achieved a comfortable salary for the rest of her career. This sentiment led to her role as a political activist. In an interview she said "All men can live together if they wish to". A statement which parallels her own career, all her hopes came to fruition because she willed and worked for it, hence we recgonise her as an artistic genius and a legacy of  hope.